Characters
WARNING: THIS PAGE MAY CONTAIN MINOR SPOILERS, ESPECIALLY FOR THOSE WHO HAVEN'T READ "THE LEGEND OF DAMIANO'S DISK!"
I'm only doing main characters for the time being, but I might add to this list in the future.
---
CHARACTER LIST
---
---
Aiden Kerbs
---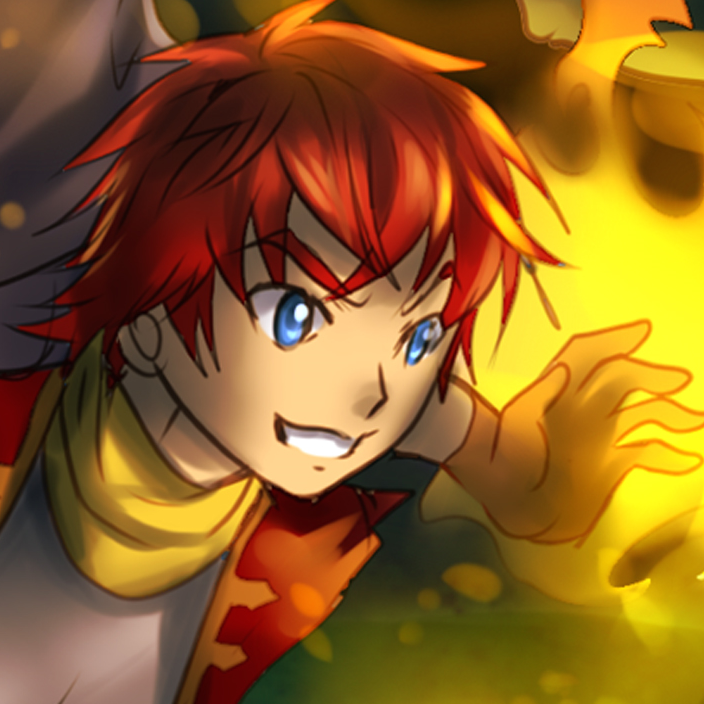 | | |
| --- | --- |
| NAME: | Aiden Kerbs |
| AGE: | 19 |
| GENDER: | Male |
| HAIR: | Red |
| EYES: | Blue |
| HEIGHT: | 6'0" |
| ELEMENT: | Fire |
A former member of the thieves' guild known as the Cobras, Aiden was kicked out of the group after criticizing guild leader Kuraikaji Kasabian. Since then, he's lived in the harsh environment of Hravart Desert, sneaking into the Cobra-controlled town of Secar late at night to steal goods.

He meets Lucas and his allies after attempting to rob them, ultimately providing the heroes with an abundance of information regarding Kuraikaji and the Cobras' grip on Secar.
Aiden is lighthearted and rarely takes anything seriously. His personality is quite chaotic, and he tends to blurt out whatever's on his mind. Despite his seemingly confident style, he's rather easily frightened (I.E.: Aiden tells the heroes that he's interested in getting back at Kuraikaji but hides his face behind Hagan the moment the dreaded guild leader appears) and has a tendency to flee when outmatched.
He's able to survive in Hravart Desert, despite the monsters swarming the area, due to his bizarre ability to conjure a barrage of fireballs without saying a chant. He's uncertain of how he's able to do this, but claims to have had the ability since he was ten. Before casting, his hands become engulfed in flames. This also occurs, unintentionally, when he's deeply angered. After joining up with the heroes, it becomes apparent that Aiden enjoys patronizing local pubs, though he tends to go 'over his limit' and typically wakes up the following day with an intense hangover. He generally makes poor first impressions and has a bitter relationship with both Sezuni and Hagan, though he and Hagan eventually become less hostile and more brotherly. There's also a recurring mutual animosity between him and Zoe after the two finally cross paths.
"Sorry 'bout that whole tryin'‑to‑rob‑ya thing. Water under the bridge, eh?"
"Hell if I know! I'm a little busy freakin' dying here!!"
"I'll just call ya Sunshine."
ADDITIONAL PICTURES: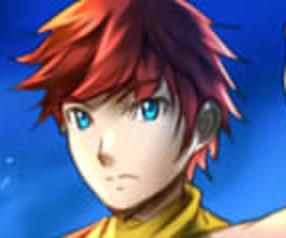 ---
Hagan Caine
---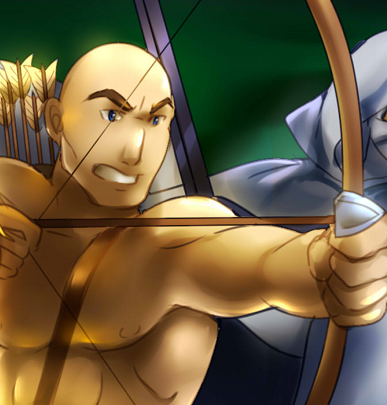 | | |
| --- | --- |
| NAME: | Hagan Caine |
| AGE: | 24 |
| GENDER: | Male |
| HAIR: | Bald |
| EYES: | Blue |
| HEIGHT: | 6'2" |
| ELEMENT: | Fire |
BIO:
A hunter from the far northern city of Azure, Hagan was swept away the day he laid eyes on Iris, a young woman who'd moved from Ivyvyne Village to attend Azure College for the Magically Gifted. His hopes were, unfortunately, diminished after he made a bad impression on their first date. Regardless, the two remain good friends.
During one of his hunting trips, he stumbles upon Lucas struggling against a large monster in the woods. Lucas is ultimately knocked unconscious, and after Hagan slays the beast, he takes Lucas to Iris for medical attention, who has since graduated and is an alchemist.
Hagan is brave, strong-willed, and somewhat cocky but good-hearted.

As a hunter, he's very savvy, often piecing together clues and introducing new perspectives to the group that they may not have considered otherwise.

He's generally collected and level-headed but tends to become blinded with rage when provoked.
Hagan is not only the physically largest and strongest member of the group, but he's also an intermediate level Fire mage, though he typically prefers using his bow to slay foes. He's rarely seen without his trademark flask, which he always keeps well-stocked with his favorite alcoholic beverage, whiskey. Unlike Aiden, Hagan rarely becomes noticeably drunk, though his tolerance fails to spare him from Iris's disapproving remarks. He generally gets along well with the other heroes, with the exception of Aiden, although the two eventually form a brotherly relationship.
QUOTES:
"You got any 'magic potions' in here that'll get me drunk, Iris?"
"I'm being realistic! We're going to die out here! This place is crawling with monsters and we're all way too exhausted to fight! Sorry if it's a little hard

for me to stay 'positive!!'"
"I only share with ladies."
"If you call me 'baldy' again, I'll shove a fire orb so far up your ass you'll be puking ashes for weeks."

ADDITIONAL PICTURES: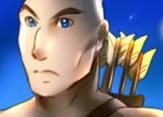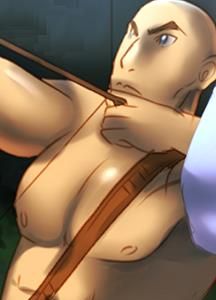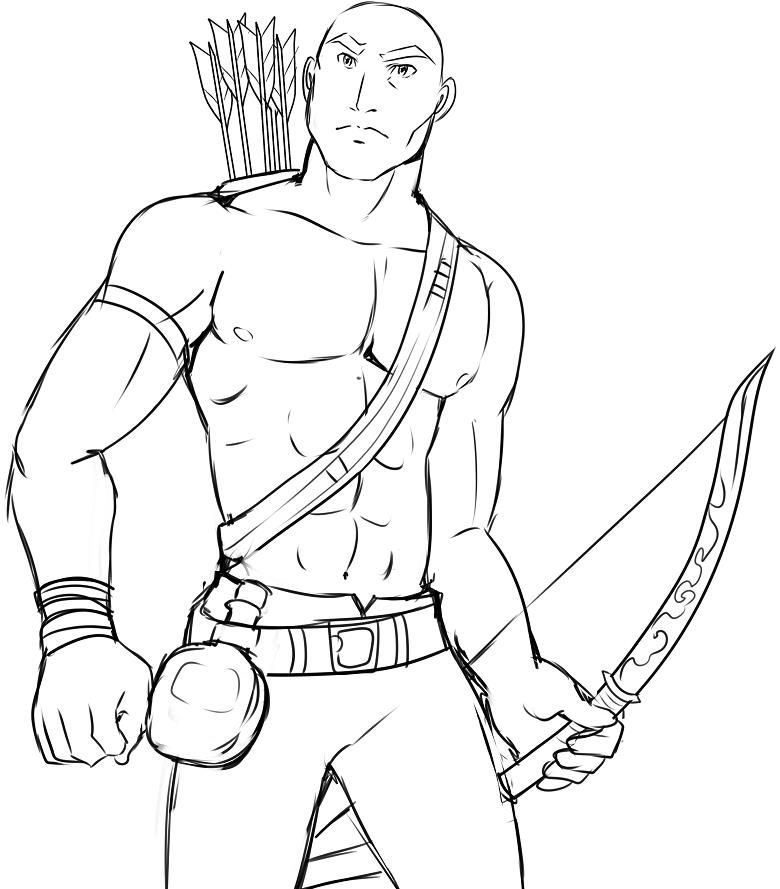 ---
Iris Ivaska
---
| | |
| --- | --- |
| NAME: | Iris Ivaska |
| AGE: | 21 |
| GENDER: | Female |
| HAIR: | Silver |
| EYES: | Brown |
| HEIGHT: | 5'7" |
| ELEMENT: | Ice |
BIO:
Since she was a young girl, Iris has always been fascinated with magic. She spent her teenage years as a student of the famous Aalok Bonham, who helped her further her skills with elemental conjuring. With the aid of his school's sponsorship, she later moved to Azure in order to attend college at the age of sixteen. Developing her passion into a career, she graduated and became an alchemist. She now works from the comfort of her home, brewing healing potions used by doctors. She acts as a mentor to Lucas when he is first learning how to conjure.
Iris is rational, intelligent, and typically calm. While she may seem detached, she's a caring person and often comes to the aid of those in need. However, her rational mindset sometimes causes her to remain oblivious to humorous undertones, and she has a tendency to respond to joking comments or questions seriously.
Iris is incredibly talented with magic and is often able to 'think on her feet' when it comes to conjuring in battle. Despite this, she struggles with physical combat, citing her athletic abilities as "mediocre at best." She's good friends with Hagan, regardless of their obvious differences. She also enjoys wearing winter clothing, even though she has no need to keep warm due to her Ice elemental center, which is also the cause of her hair color. She wears a pair of sapphire earrings, later revealed to be enchanted items which protect her from curse and effect spells. When she isn't brewing potions, her favorite pastimes are reading and chess. Traveling through the portal to and from the In Between causes her to temporarily come unglued: wildly flailing her arms and legs, screaming in terror. She has a sixteen-year-old brother named Garret, and her father owns a successful bakery in Ivyvyne Village.
QUOTES:
"Conjuring your first spell is an arduous routine. You must learn to accept your failed attempts as essential steps toward reaching your potential. Viewing your lack of success as an obstacle will only hamper your progress."
"I'll refrain from annihilating your confidence."
"Casting offensive spells indoors is highly ill-advised."


ADDITIONAL PICTURES: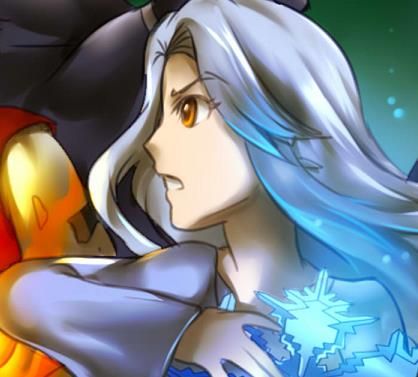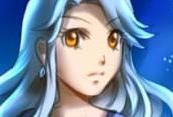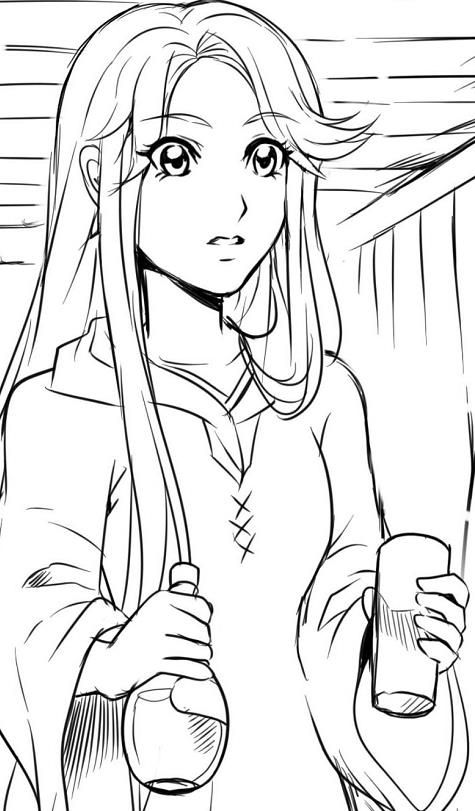 ---
Kuraikaji Kasabian
---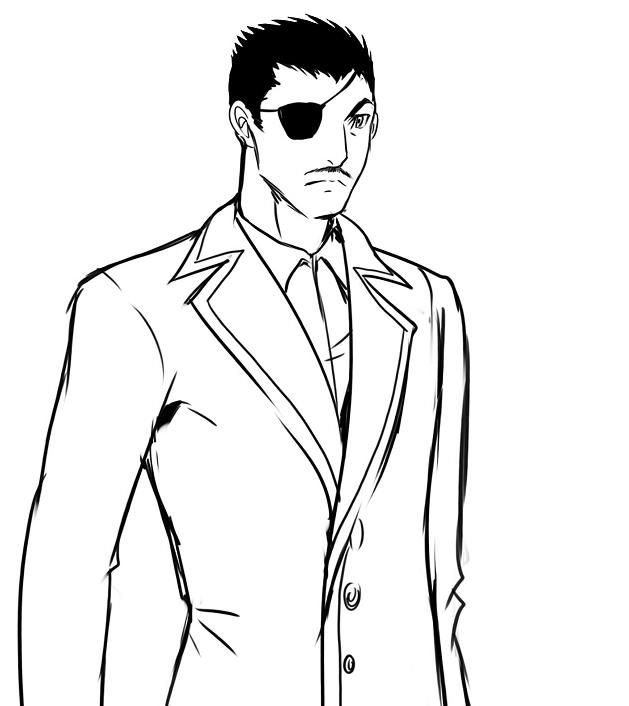 | | |
| --- | --- |
| NAME: | Kuraikaji Kasabian |
| AGE: | Unknown |
| GENDER: | Male |
| HAIR: | Black |
| EYES: | Green |
| HEIGHT: | Unknown |
| ELEMENT: | Fire |
BIO:
The powerful and dreaded leader of the thieves' guild known as the Cobras, Kuraikaji is not to be trifled with. During the initial monster invasion of Aria, he and his men took control of the desert town of Secar by seizing advantage over King Ashraf's knights in their weakened state. Even though the Knowms arrived in the town soon after, they too met a similar fate at the hands of Kuraikaji's Cobras.
Following his men's discovery of a portal to the In Between, Kuraikaji traveled to the mysterious dimension and learned of Damiano's Disk after capturing and interrogating a Spade.
He is now determined to be the first to complete the object, by any means necessary, believing that the power it unlocks will tremendously aid his goal to expand his territory beyond Hravart Desert.
QUOTES:
"Don't tell me you've suddenly transformed into a sniveling coward."
"Yes, I'll admit, I don't wear this eye patch because it makes me look devilishly handsome.

"
"The strong eat the weak, and that's that."
"Considering you're such a fearless warrior, I presume you wouldn't be opposed to a fight to the death."

ADDITIONAL PICTURES:
(No additional pictures available.)
---
Laverick Aveley
---
| | |
| --- | --- |
| NAME: | Laverick Aveley |
| AGE: | 17 |
| GENDER: | Male |
| HAIR: | Blond |
| EYES: | Blue |
| HEIGHT: | 5'6" |
| ELEMENT: | Unknown |
BIO:
Laverick and his mother, Veronica, are initially hired by Lord Javan Quinn to retrieve the second disk fragment in Spade possession. Using his emerald necklace, which grants him the ability to shape-shift into other people, Laverick transforms himself to look like Zoe in order to stealthily search the Spade base for the coveted treasure.
Laverick is childish, energetic, and often just plain silly. He's very close to his mother, despite her verbally abusive and controlling behavior, and goes to great lengths to receive her praise. He usually refers to Veronica as "Ma," except for when he has angered her and instead calls her "Mommy."
Other than his enchanted necklace, Laverick is incapable of performing magic and will run if threatened. He dreams of becoming rich and famous and hopes that he and his mother's cooperation with Lord Quinn will make his aspirations a reality.
QUOTES:
"Aw man, now I gotta search through undies."
"Who am I kidding? I got this! This is gonna be cake! CHOCOLATE cake!

"
"I gotta be super‑duper‑extra‑wextra quiet!"
"It's got honey and syrup on it."

ADDITIONAL PICTURES: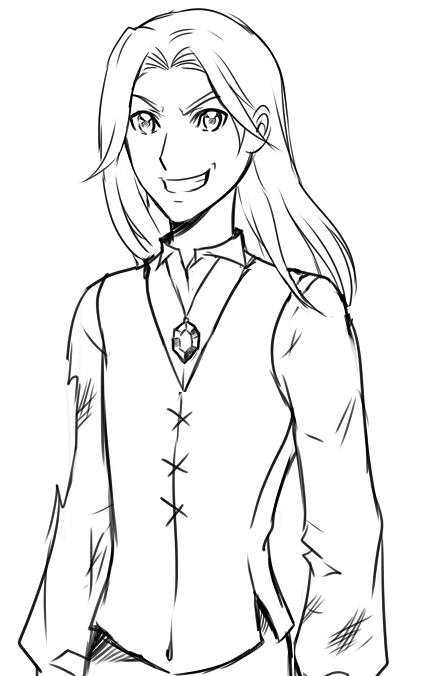 ---
Lord Javan Quinn
---
| | |
| --- | --- |
| NAME: | Javan Quinn |
| AGE: | 45 |
| GENDER: | Male |
| HAIR: | Gray |
| EYES: | Brown |
| HEIGHT: | 6'0" |
| ELEMENT: | Shadow |
BIO:
The longtime adviser of King Ashraf, Javan prefers being addressed by his formal title, Lord Quinn. Due to a series of disturbing events throughout his younger years, he's obsessed with completing Damiano's Disk and even goes as far as abusing his political power to aid his efforts in acquiring the object.
Despite Lord Quinn's supposed goal to harness the power unlocked by Damiano's Disk to usher in a "new age of prosperity" for the people of Aria, he isn't opposed to using, hurting, or killing anyone who questions him or stands in his way.
Lord Quinn is a master of Shadow magic and is rarely outdone in combat. He's a skilled swordsman as well, though he tends to save his weapon for "finishing off" his opponents, favoring the use of offensive and effect magic. He lives in Regal Heights, a gated community within the royal city of Cymbeline, in a large mansion dubbed Quinn Manor. He's the secret leader of the Knowms and also has control over the Crimson Clan of Gethin Woods.

He's especially fond of wine and tea and occasionally smokes pipe tobacco.
QUOTES:
"

Interesting. I'm not very fond of traitors, myself. Perhaps we will both learn to live with the hand we've been dealt, hm?

"
"

If you wi

sh to be my enemy, then I will treat you as such. Are you prepared to see how I deal with my enemies?

"
"If you're feeling audacious, then I urge you to proceed. Slander the king's loyal, cherished friend and adviser. You'll undoubtedly be met with great success."
"Perhaps you should take some time to reconsider your alignment

.

"

ADDITIONAL PICTURES: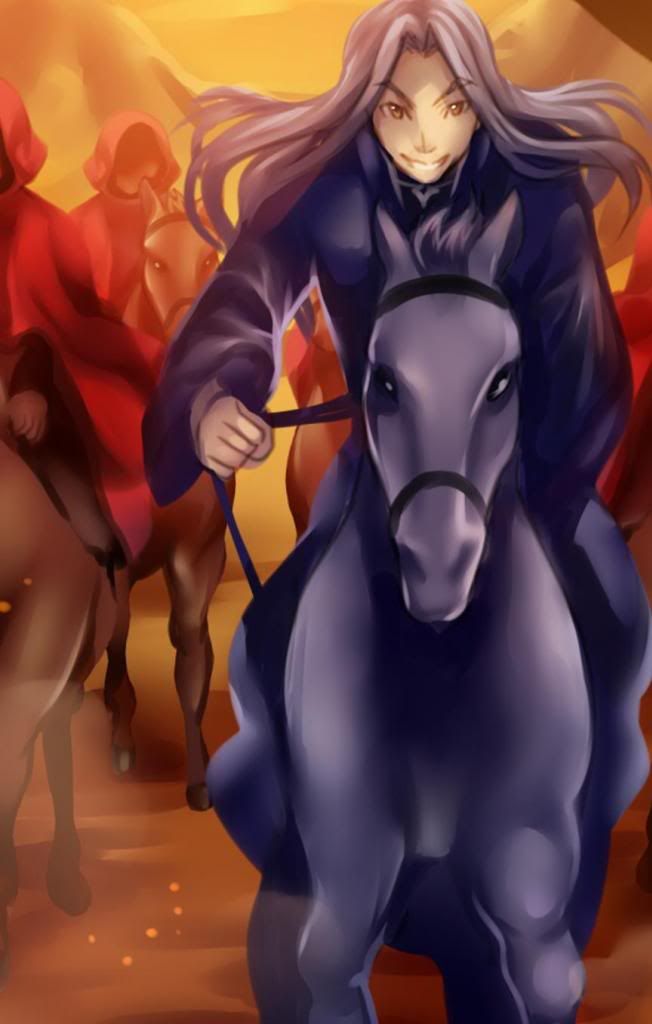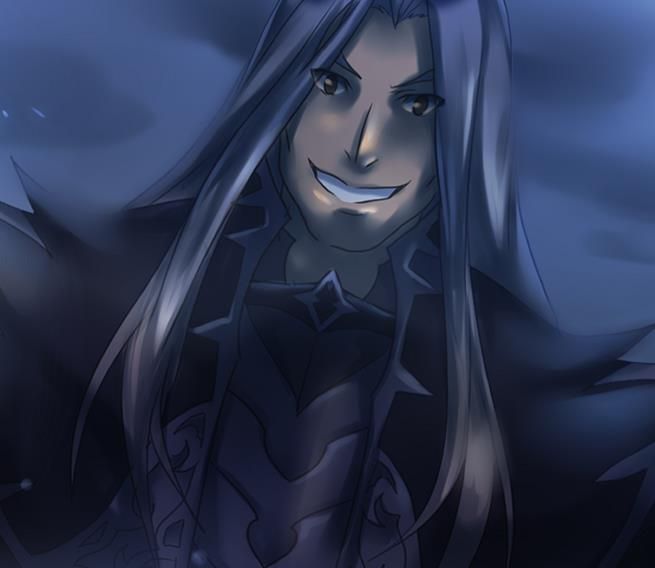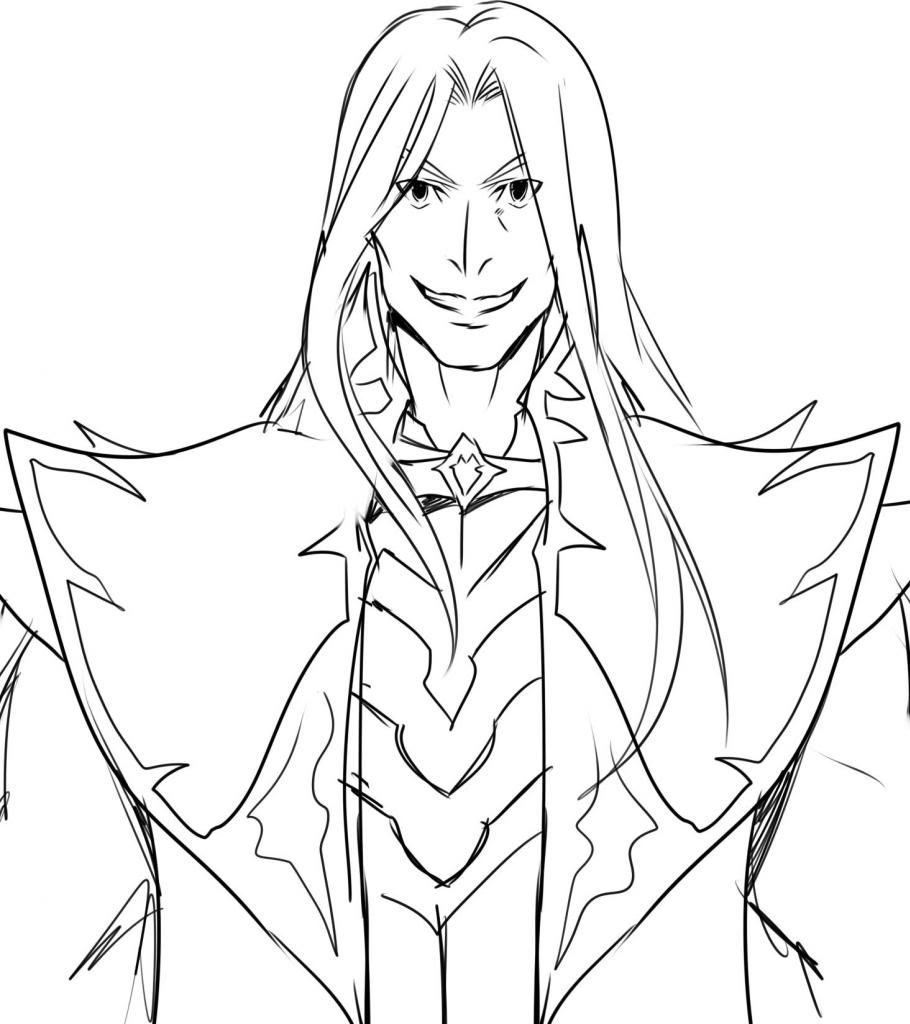 ---
Lucas Bardsson
---
| | |
| --- | --- |
| NAME: | Lucas Bardsson |
| AGE: | 18 |
| GENDER: | Male |
| HAIR: | Blond |
| EYES: | Green |
| HEIGHT: | 5'10" |
| ELEMENT: | Light |
BIO:
A quiet, thoughtful young man, Lucas lives in a small house in a vast field just west of Cymbeline with his grandfather, a fairly well known poet, Marvin Bardsson. Both of his parents died as a result of the monster invasion and, after he uncovers the truth regarding the devastating event, he ultimately sets off to restore Aria to its peaceful state, hoping to spare others from a similar fate.

Lucas is compassionate, brave, and rational. He's a thinker and tends to carefully weigh his options before making a major decision. Although he's generally trusting of others, he often uses his Light elemental center's ability to read emotions as a way of verifying intentions. Despite his loving, caring nature, he can become aggressive when he needs to be, surprising both his enemies and his friends.
H

aving learned the basics of swordplay from his father, Lucas

uses magic alongside his sword in combat. Magically, he's the least experienced in the group, but his unparalleled ability to quickly master new skills and apply his knowledge in the field compensate his shortcoming. He loves nature and enjoyed hiking in the countryside prior to the monster invasion. His curiosity of the world around him surfaces many times throughout the adventure; he frequently asks questions and always tries to learn as much as possible in each of the group's encounters. He's very close to his grandfather and often worries about his safety.
QUOTES:
"Like it or not, the only way we're going to have a good shot at this is if we all work together."
"

I learned how rough it is out here firsthand. I'm not here to judge you for what you have to do to survive. Just try to be more careful.

"
"I'm frustrated too. But getting angry isn't going to get us across this river."
"

Maybe I'm just some 'boy' throwing 'fairy dust,' but you're the one who lost to him.

"

ADDITIONAL PICTURES: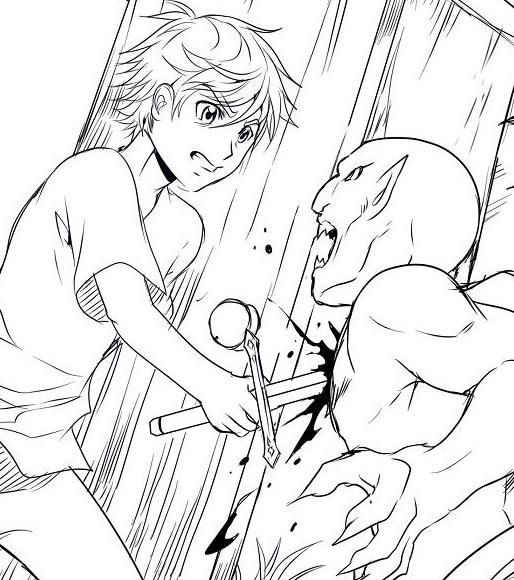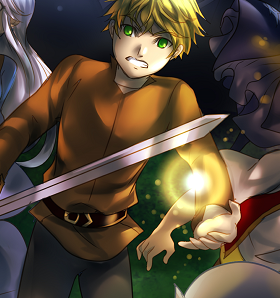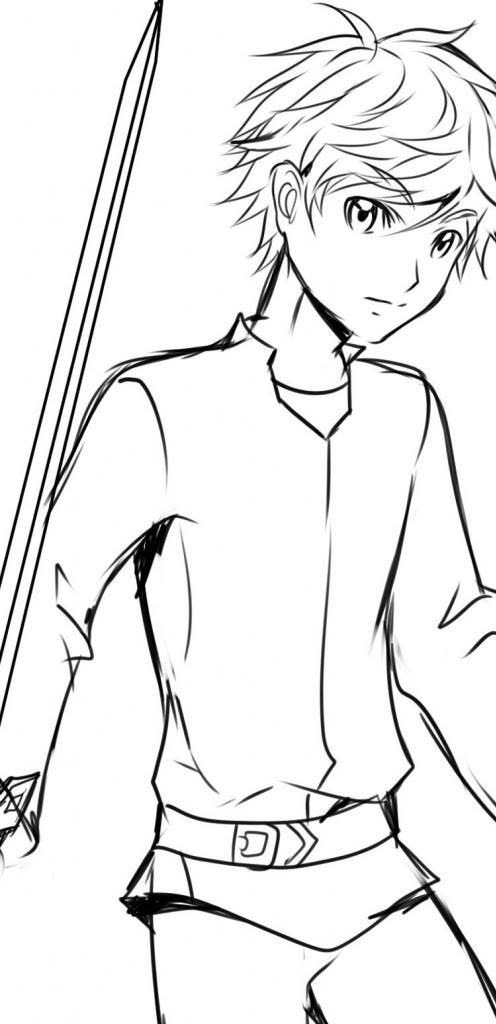 ---
Sezuni Haahn
---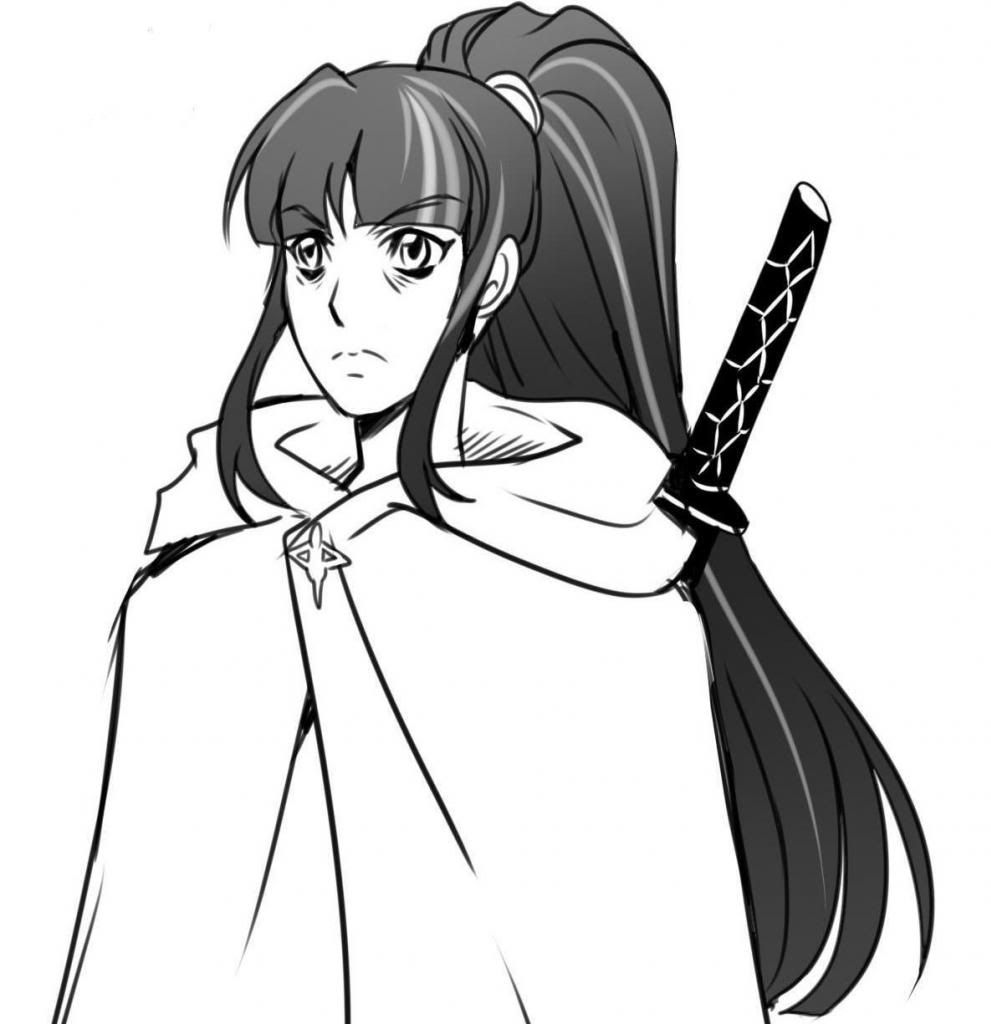 | | |
| --- | --- |
| NAME: | Sezuni Haahn |
| AGE: | 39 |
| GENDER: | Female |
| HAIR: | Black and Gray |
| EYES: | Blue |
| HEIGHT: | 5'6" |
| ELEMENT: | Shadow |
BIO:
A former assassin of the guild known as the Order of the Sacred Blade, Sezuni's past is mostly shrouded in mystery
. She currently occupies a small shack in Hravart Desert and keeps her identity hidden with the concealment of a white cloak. She assists the group for unknown reasons after Hagan is poisoned by a scorpion and ultimately aids them in infiltrating Secar.
Sezuni is very athletic and prefers physical combat, though she is capable of Shadow conjuring. She's mostly dry in her speech and will quickly turn hostile if angered. In spite of only being in her late thirties, the group perceives her to be older, which can likely be attributed to her rough lifestyle.
QUOTES:
"Arrogantly underestimating your opponent is a surefire way to ensure your own demise. All I'm telling you is the truth."
"Using my natural ability is hardly cheating.

"
"That's exactly it; you weren't thinking."
"If you're serious about restoring peace to Aria, you're going to have to face many dangers such as this along the way. I'm not going to babysit you."

ADDITIONAL PICTURES: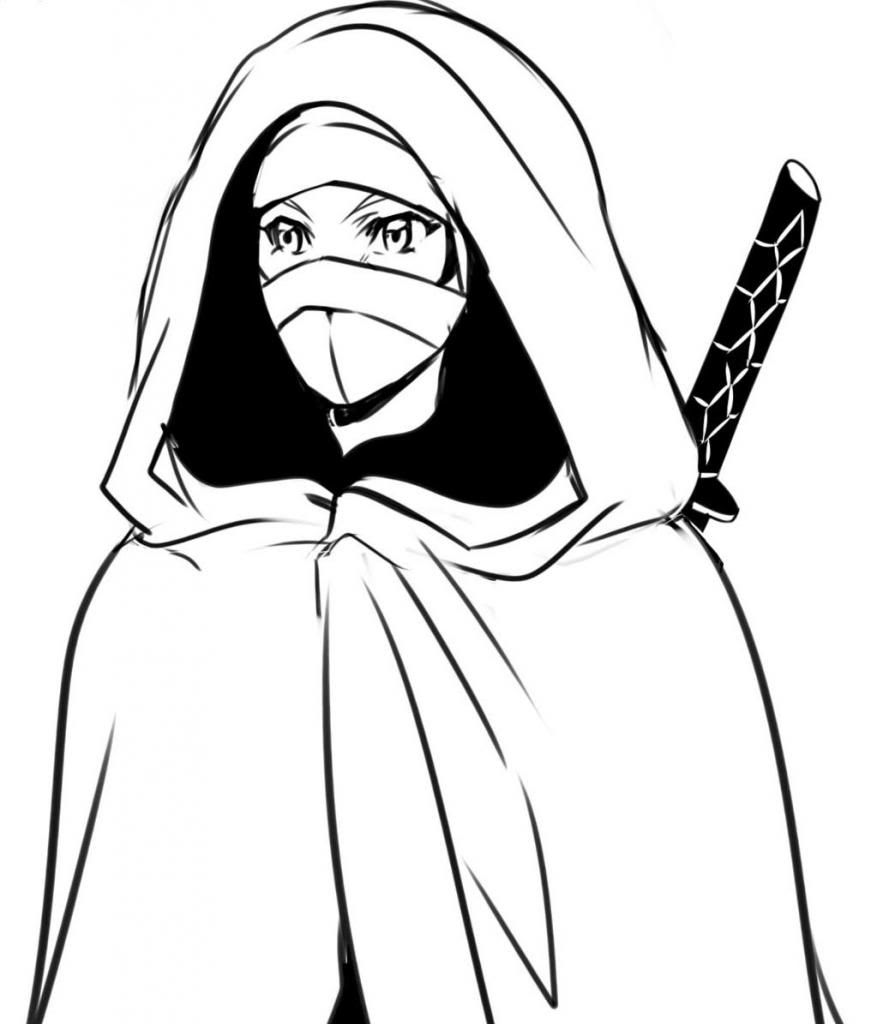 ---
Veronica Aveley
---
| | |
| --- | --- |
| NAME: | Veronica Aveley |
| AGE: | 50 |
| GENDER: | Female |
| HAIR: | Brown and Gray |
| EYES: | Green |
| HEIGHT: | 5'9" |
| ELEMENT: | Light |
BIO:
A well-rounded mage, Veronica is thoroughly knowledgeable in the fields of enchantment, conjuring, and rituals. She departs from her home in Kieran Forest along with her son, Laverick, after Lord Quinn hires the duo to assist him in obtaining the second disk fragment.
Veronica functions as a team with her son, using her telepathic abilities to guide and communicate with him from afar while he does the dirty work. Perhaps her greatest creation is Laverick's enchanted emerald necklace, which grants him the power to shape-shift. She claims it was "the product of countless rituals, performed to perfect detail." Her son's childish and flat-out bizarre behavior often infuriates her, especially when he exhibits the aforementioned characteristics during their missions.

QUOTES:
"If he doesn't, mommy has ways of getting what she wants."
"Ask what's in the bloody chest!!

"
"You're a blundering idiot with remarkable luck; you decide."
"Laverick! Stop this nonsense at once!!"

ADDITIONAL PICTURES: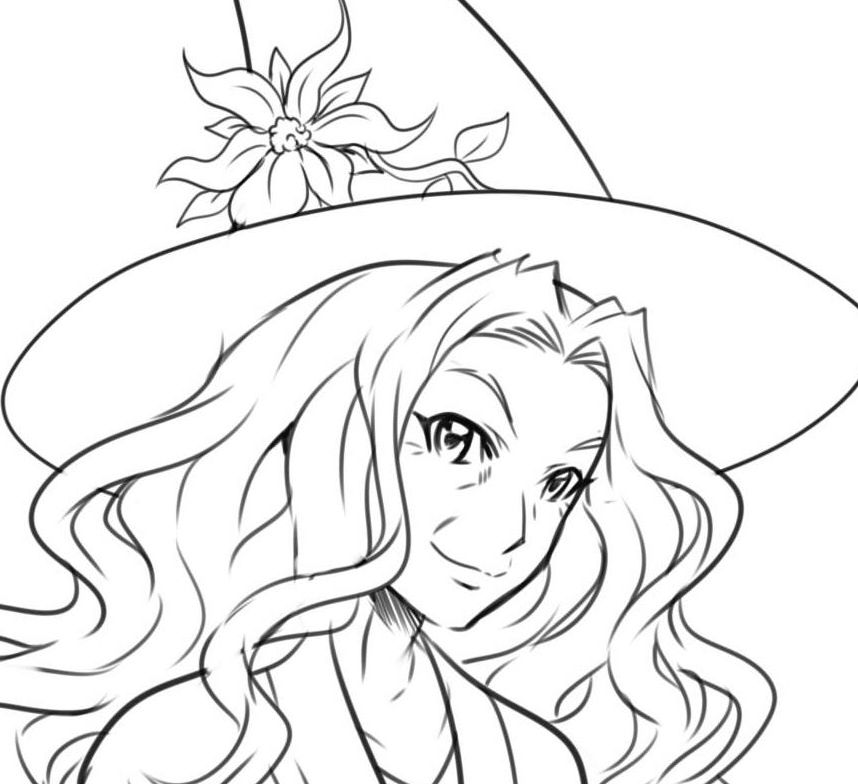 ---
Zoe Quinn
---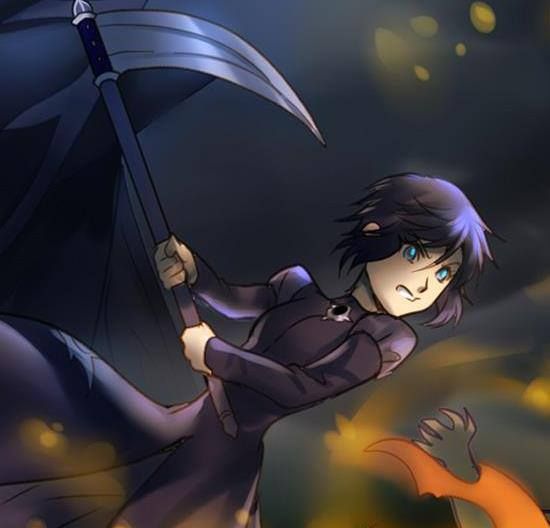 | | |
| --- | --- |
| NAME: | Zoe Quinn |
| AGE: | 19 |
| GENDER: | Female |
| HAIR: | Black |
| EYES: | Blue |
| HEIGHT: | 5'3" |
| ELEMENT: | Shadow |
BIO:
At the age of fourteen, Zoe ran away from her home in Regal Heights and joined the Spades. While her exact motivation is hazy, her relationship with her adoptive father, Lord Javan Quinn, is far from perfect.
Zoe is stubborn, passionate, and notably temperamental. She tends to hide her softer side and may come across as callous, especially when offended. She's also quite arrogant and sometimes makes impulsive decisions that she later regrets. Despite her negative characteristics, she's exceptionally caring and protective of those she holds dear.
As a Spade, Zoe is trained in physical and magical combat. She fights with a scythe, and her conjuring abilities are at the advanced level. Her initial impression of Lucas is somewhat negative, citing him as "oblivious" and "not cut out to be a Spade." Zoe has a close relationship with a fellow Spade named Roshan. She dislikes dancing and has a strange hatred of the color pink.
QUOTES:
"

They're all heels! I might as well go barefoot!

"
"Do I look like an information desk to you?!"
"I didn't come here for your commentary."

ADDITIONAL PICTURES: